Several of the events this year are dedicated to Tony Jannus and his history making flight from St. Pete to Tampa 100 years ago.  Have fun, be safe and I wish you a happy, healthy & prosperous New Year! Feliz, saludable y próspero Año Nuevo! Heureux et en bonne santé & nouvelle année prospère ! Glückliches, gesundes und erfolgreiches Neues Jahr!
First Night St. Petersburg
Straub Park at Beach Drive and Fifth Avenue NE, St. Petersburg  4:00 p.m. to midnight at multiple venues in downtown St. Petersburg. Family-oriented festivities with music stages, lights, dance, fire, bubbles, stories, creative fun and two fireworks displays. The first will be at 8 p.m. and the second at midnight. It's free to wander around, but you need a button to enter the stage areas or to participate in the activities. The button  costs $10.  http://www.firstnightstpete.com/
Swing Music at the Coliseum  535 Fourth Ave. N, St. Petersburg
Swing dance with music by the 18-piece Tom Kats Big Band, balloon drop, party favors, noisemakers, chocolates, prize giveaways, cash bar and New Year's decor. Vintage fashion photo shoot and contest. New Year's or vintage attire encouraged. Doors open at 7:30 p.m. with a swing dance lesson from 8 to 9 p.m. The party goes until 1 a.m.  $30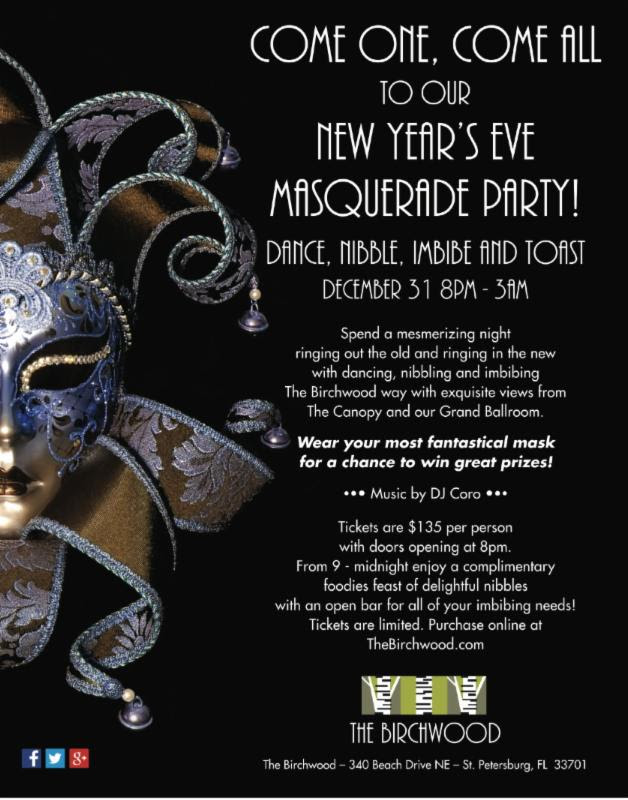 Mahaffey Theater  400 First St. S, St. Petersburg
Join HOT 101.5 and bring in the New Year with DJ music, go-go dancers, LED screens and a midnight toast. The party goes on until 2 a.m. $25-$75.
Sushi Rock Grill
1163 9th St N, St Petersburg, FL 33701 (727) 898-7625
Complimentary Champagne  Happy Hour Sushi until 7 pm