You are currently browsing the category archive for the 'Environment' category.
Here on the cusp of fall, parents around the country are preparing for a new school year. To help out, we've rounded up a few of our favorite back-to-school supplies from certified Green Business Network (GBN) members that will make your star student the most sustainable kid in class.
1. Palila II Back Pack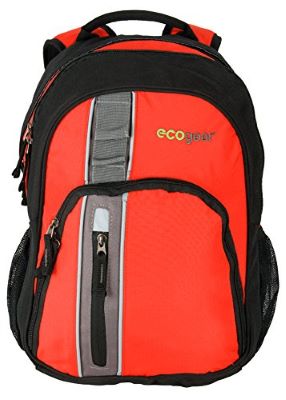 The Palila II backpack from Naturally Playful ($34) is made from recycled bottles and is completely free of polyvinyl chloride (PVC) and AZO dyes. The backpack's also has plenty of convenient pockets and ergonomic shoulder straps for comfort.
2. Recycled Index Cards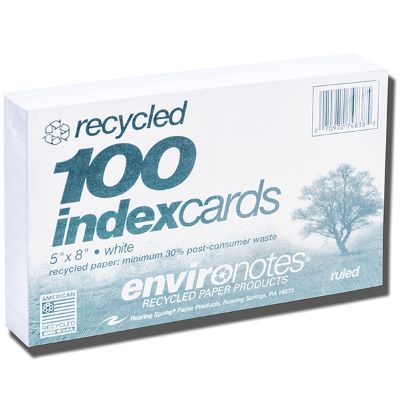 Stock up on Naturally Playful's recycled index cards ($1.50/pack), made in the USA with 40 percent post consumer paper.
3. Post Consumer 3 Ring Binder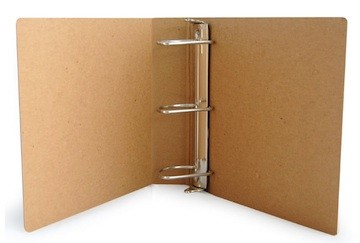 These post-consumer 3 ring binders (one-inch for $10 and two-inch for $12) from EcoPaper are recyclable, durable and resistant to spine tearing. Made with corrugated cardboard, these binders are perfect for keeping track of notes and assignments.
4. Safe Sporter Water Bottle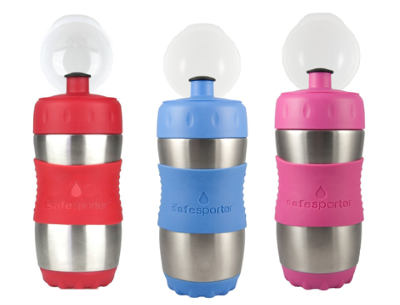 The pioneering Safe Sporter 16 oz. reusable water bottle ($15 on Lucky Vitamin) from Enviro Products by New Wave is lead and Bisphenol A (BPA) free and dishwasher safe. The bottles come in a variety of six colors and can reduce the use of plastic ones which don't last nearly as long.
5. Tree Free Paper Notebooks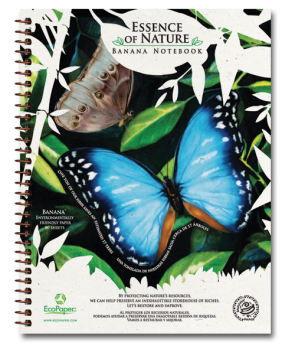 Eco Paper's line of tree-free paper notebooks and journals ($6-$9, depending on size) are made with a mixture of post consumer and agricultural waste (bananas!) and free of toxins and bleaches. These notebooks are perfect for keeping your notes and ideas organized for the year. You can even toss your used notebook in the compost pile at the end of the year.
6. Beeswax Crayons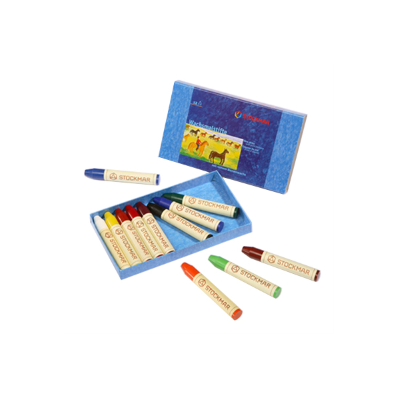 These beeswax crayons from Hazelnut Kids ($22.50) are safe to use with 12 vibrant colors.
7. Eco-highlighters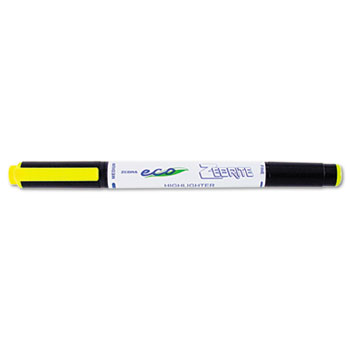 The ZEBRA ECO highlighter ($2) is a green way to put a spotlight on important notes.  Available from Greenline Paper Company they are made with 70 percent post-consumer recycled plastic, including from old CDs.
8. Wool Insulated Natural Lunch Bag 
This wool insulated lunch bag ($40), also from Life Without Plastic proves that plastic-free lunch boxes are possible. The bag is made with 100 percent unbleached certified organic cotton and it's wool insulated design guarantees that food will stay cool and fresh.
9. Hand Sanitizer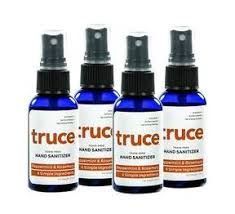 For little hands that are busy and prone to germ exposure, a non-toxic hand sanitizer may be good to have throughout the school day. The Peppermint & Rosemary hand sanitizer from Truce ($5) is made with rubbing alcohol, vegetable glycerine, aromatherapeutic oils and aloe vera and is gentle on kids and adults.
10. Bees Wrap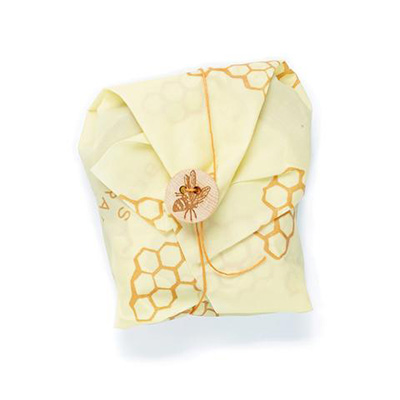 For an eco-friendly way to pack lunch, stock up on lunch wraps from Bees Wrap. You can bundle up your sandwich, snacks, and a cookie ($21). The wraps are made with beeswax-infused organic cotton and just need a quick wash to be ready the next day.
11. Stainless Steel Food Containers and Lunchbox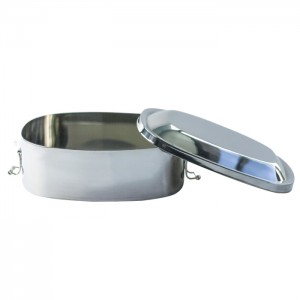 Say goodbye to squished sandwiches in plastic baggies. New Wave EnviroProduct's stainless steel food containers and lunchboxes are free of Bisphenol-A (BPA) and other toxic chemicals commonly found in plastics. Plus, these containers are durable to last throughout many years of school and beyond.
More tips to go green at school:  
Even if your back-to-school prep doesn't involve a lot of shopping, there are other actions you can take to promote sustainability in your school. Starting green student clubs, planting a Climate Victory Garden at your school (and then registering it on our map), taking field trips to learn about your school's surrounding environment, carpooling with neighbors, and organizing community clean ups sure ways to motivate students and faculty to go green.
As an avid organic gardener for more than 40 years, I have been composting for almost that entire time. I have made them with chicken wire, old fence boards, recycled broken rain barrels, pallets, broken wine barrels, trash cans or whatever materials that I could find. I have also purchased compost bins from various farm supply stores and gardening supply companies. When I lived in Northern California 20 plus years ago, they already had a free composting program. So I am extremely happy that my city of these last 13 years is launching this program. They even have a downloadable composting guide.
I signed up for it immediately-about 2 weeks ago-even though I bought a very small one a while back. With all of my gardening & cooking, I filled it up very quickly. Just yesterday I received an email stating that "so many St Petersburg residents are interested in composting. Due to the demand for compost bins, it is taking some time to get them all delivered. Yours should be delivered before the end of next week. Thanks again for your interest (and patience), The St Pete Composting Team".  I'll gladly wait. I am so happy that SO many residents signed up!!
From the City of St Pete's website:
Did you know that kitchen and yard waste make up about 30% of what is thrown away? Composting helps divert these materials from landfills to deliver nutrients back into the soil.
Composting is the natural process of recycling organic material, like kitchen and yard waste, which breaks down to form a usable, nutrient-rich fertilizer.
Residential Composting Program
St. Petersburg's residential composting program supports the sustainability initiatives of the City and empowers residents to minimize their environmental impact. Residents in single-family homes who are interested in composting are invited to sign up the free and voluntary program.
Participants in the composting program will receive a composting bin from the City to use in their backyard. The bin is approximately 33″ wide at the base and 33″ tall. There will be no collection service, but the resident will be responsible for feeding and maintaining the bin and will reap the benefits of the nutrient-rich compost by spreading it on their lawn or garden or even donating to a local community garden. For more information about composting, see our composting guide .
Next Steps
Complete the form to request a composting bin.
Start composting!
Participate in periodic surveys to help improve the composting program.
In many places, spring got a late start this year. So it's no surprise if you're just now getting outside to look around at what Mother Nature left behind and decide on what you need to do to tune up your home for summer.
Here are a dozen to-dos to make certain that your home is in top shape – healthy, attractive, and performing well.
1. First impressions.
 Take a hard look at the impression your front entrance makes, especially if your house is on the market. Look at places like Pinterest and HGTV for ideas on how to make a better first impression. Some examples include adding a pop of color by repainting your front door, changing door hardware, adding lights, installing window boxes, and ensuring that your steps and railings are sturdy and look fresh. 
Learn about the value
 of doing outdoor upgrades and the projects that bring the greatest joy and 
ROI
.
2. Winter damage. Do an exterior walk-around and check for winter damage. For example, be certain gutters aren't clogged with leaves and debris. Inspect your foundation for cracks and openings that could allow bugs and vermin to get inside. Check decks and porches for loose boards, rot, and unstable railings.
3. Clean air. Tune up your air conditioner to keep it working at ideal capacity and save energy.
4. Leaks. 
Check your faucets, toilet flapper, and valves and fix any leaks. 
According to the EPA
, a leaky faucet that drips at the rate of one drip per second can waste more than 3,000 gallons per year – the equivalent to 180 showers. Also, turn your shut-off valves on and off to be sure they don't get frozen in place.
5. Keep cool air inside.
Check your weather-stripping
 to be sure it's not dried out or falling down. Though it's thought of as a winter project, weather-stripping also helps you keep cool air in and hot air out during the summer.
6. Purge chemicals. 
Hunt through your garage, basement, and cabinets and round up all the toxic chemicals, paint strippers, weed killers, toxic cleaning products, and so forth. 
Find a local recycler
.
7. Lawn alternatives. 
Letting go of the lawn eliminates the need for maintenance and mowing, which buys you more leisure time. By replacing a chemical hungry lawn with 
native plants
, you can save water (and money spent on your water bill) and eliminate pesticides and fertilizers, which is better for your family's health and the environment. 
Learn more here.
10. Harvest water.
Reduce your water bill
 by installing a rain barrel to capture rainwater that can be used for watering plants and flowers. Buy rain barrels or take a DIY approach.
11.  Mold. 
Maintain your house
 in a way that prevents mold growth. According to the University of Georgia, mold sources include:
• Plumbing pipe and fixture leaks
• Roof leaks
• Flooding
• High humidity levels from:
        o clothes dryer that is not properly vented
        o non-working exhaust fans in kitchen and bathrooms
        o a large number of indoor houseplants
        o unvented kerosene or gas heaters
        o water collection in crawl spaces or basements
12.  Leave your shoes at the door. 
Look closely at the sidewalks you walk on. Do you want to track dust, pesticides, cigarette ash, and dog waste into your house and on the floors where pets and kids play? See the 
University of Arizona study
 to learn about the gross, unhealthy things that come inside on the bottoms of your shoes.
Article written by Elyse Umlauf-Garneau
Great graphic showing how green we are in Pinellas County, Florida. Pinellas County includes the area between St Petersburg, St Pete Beach and Clearwater Beach. In this case, the green means primarily green parks for people and animals. Check out the graphic and then come to see for yourself.
Please, dear elephants, please outsmart us humans & survive. Came across this incredible post. A must read.