Category Archive
You are currently browsing the category archive for the 'first time home buying' category.
May 3, 2018 in Buyer info, Buying a condo, Buying a Home, first time home buying, home buyer info, Lender Info, Mortgage info, Move Up Buyers, Real Estate News, Women | Tags: Buyer info, Buying a condo, buying a home, first time home buying, home buyer info, Lender info, Mortgage info, Move Up Buyers, Real Estate News, Women | Leave a comment
Interesting. Unfortunately, it makes sense when woman still make less than men in so many occupations.
SEATTLE – April 23, 2018 – Real estate website Estately recently conducted a study showing how America's gender wage gap affects home affordability and ownership for women.
http://www.floridarealtors.org/NewsAndEvents/
To find out, Estately used 2016 U.S. Census data to compare men's and women's median salaries in the 50 most populated U.S. cities. Based on those salaries and assuming a monthly mortgage payment of 28 percent of the gross monthly income, the site used a mortgage calculator to determine the maximum home price each salary could afford.
Armed with this information, Estately reviewed the homes currently for sale in major cities across the country and identified the percentage of homes men versus women could afford.
The results in some urban centers were bleak. Seattle, for instance, has the biggest wage-based housing gap. Men can afford nearly 150 percent more homes than women.
Colorado Springs, Miami, San Diego and San Jose also topped the list with significant gaps. For instance, in Colorado Springs men can afford 122.5 percent more homes than women, while further down the list in San Diego, the difference is still a significant 68.5 percent.
With these results in mind, we asked real estate and personal finance experts to share their top tips for single women seeking to purchase a home.
Don't let the down payment scare you away
Coming up with the funds to make a down payment on a home can often seem impossible, particularly when so many Americans have sizeable student loan bills and more.
Andrina Valdes, division president at Cornerstone Home Lending, urges buyers not to let this part of the process discourage them.
"Over and over again, potential home buyers report saving for the down payment as the biggest hurdle to homeownership. When you're relying on one income to save up for it, the problem can seem insurmountable," says Valdes.
The good news is there are all kinds of down payment assistance programs that can help individuals get into a home for less money down.
The Federal Housing Administration loan is popular among first-time and single-income home buyers thanks to its 3.5 percent down payment requirement. There are also programs offered by the Veterans Administration and also USDA loans that may require no down payment at all, says Valdes.
Line-up a guarantor or co-purchaser
The reality is that many single income households, whether they're run by men or women, need assistance in buying a home in today's market.
Experienced agent Julie Gans of Triplemint suggests lining up a qualified guarantor, co-purchaser or someone who might be able to gift money for your home purchase.
Consider a fixer upper
A growing trend among home buyers with limited means has been buying older properties and rehabbing them, says Ralph DiBugnara, president of Home Qualified.
"There are a few mortgage products in the market right now that make that easier," said DiBugnara. "Fannie Mae has a loan called Home Style and FHA has what's called a 203k loan. They both allow you to not only finance the purchase price but also construction costs in the loan to help your home look new."
Look at homes well below your means
Real estate analyst Julie Gurner, of FitSmallBusiness.com, says it's critical that single income households buy properties that are well below the amount they've been pre-approved for.
"You see that gorgeous home at the top of your range? Pass on it, and you'll be glad you did," said Gurner. "Single women and single income families have to be especially mindful to buy a home below their means … It gives them an additional expense cushion every month. Things come up. Doctor visits, your car breaks down, or your furnace breaking can be a big financial hit if you don't have the ability to absorb it. On months where nothing goes wrong, you have the ability to save."
As a single income earner, it's important to protect yourself financially and be able to provide the necessities that make life stable. Having a home below your means can give you both and a great place to live.
House hunt during the right season
When it comes to finding an affordable home, time of year can make a big difference.
That means shopping during the right seasons, when prices traditionally are more negotiable and inventory is better, says Valdes.
Recent data from Trulia shows that there's a 7 percent spike in starter home inventory during the fall, making it an ideal time to find a good deal. On the flipside, starter home inventory drops by more than 20 percent during the summer, making the warmer months a less appealing market.
Minimize credit card debt
As you embark upon your housing search, it's critical that you reduce existing debt. This helps on a variety of levels.
For instance, not only does it make you a better mortgage applicant, it will also help once you're in your new home dealing with a whole host of new expenses.
Gans, of Triplemint, suggest tackling credit card debt in particular.
"Pay off all credit cards prior to purchase to lower your income to debt ratio," advises Gans. "This reduces your liability and makes you look more appealing to a seller."
http://www.floridarealtors.org/NewsAndEvents/
Copyright © 2018 North Jersey Media Group Inc. This article originally appeared on Credit.com.
(Ariel photo of downtown St Petersburg, in the Tampa Bay area of Florida)
According to Zillow's 2018 Best Markets for First-Time Buyers Analysis, first-time buyers in the U.S. looking for an affordable home without much competition may have the best luck in the State of Florida, with both Tampa and Orlando ranked high in the Top 10 best cities for first-time home buyers in 2018. Texas also had 3 cities ranked high on the same list.
Residential News » Tampa Edition | By Michael Gerrity | March 2018
Zillow ranked the 35 largest U.S. housing markets based on where first-time buyers have the best chance to find an affordable home with little buyer competition and strong forecasted home value appreciation. First-time buyers make up 42 percent of all buyers, according to the 2017 Zillow Group Report on Consumer Housing Trends.
The U.S. housing market is competitive for all buyers, as there are not enough homes for sale to meet today's strong buyer demand. In January, inventory of the least expensive homes was down 17.1 percent annually, compared to a 9.7 percent decrease for all homes. In 2017, nearly a quarter of home sales were above the listed price. This puts first-time buyers at a disadvantage this home shopping season because they won't have the capital from a previous home sale to help fund a down payment or keep up with bidding wars. Saving up for a down payment is the most commonly cited barrier to homeownership.
New buyers will have it easiest in the Southeast, especially Texas and Florida. Five of the top 10 markets for first-time buyers are in those two states. Homes in those markets require a smaller down payment, and buyers are more likely to encounter price cuts.
First-time buyers are likely to face the most difficulty in pricy West Coast markets, especially California metros. Not only are homes expensive, but inventory is especially limited, and it takes longer to break even on a home purchase.
Ten Best Markets for First-Time Homebuyers in 2018
1.   Tampa, FL
2.   Indianapolis, IN
3.   Houston, TX
4.   Orlando, FL
5.   San Antonio, TX
6.   Saint Louis, MO
7.   Philadelphia, PA
8.   Atlanta, GA
9.   Las Vegas, NV
10. Dallas, TX
"More and more millennials are reaching the point in their lives where they are ready to buy a home, but they are entering a highly competitive housing market that has been plagued by low inventory, especially among entry-level homes," said Zillow Senior Economist Aaron Terrazas. "Southeastern markets will be easiest for new buyers, where homes are more affordable and there's less competition. People planning to buy for the first time in some of the tougher markets should be prepared to face a more competitive environment, but that doesn't mean they should count out buying entirely."
Zillow's list of the best markets for first-time buyers is based on five metrics:
Low median home value that requires a smaller down payment
Strong forecasted home value appreciation
High inventory-to-household ratio, to indicate available supply
Short Breakeven Horizon, which is the time it takes for buying to be financially advantageous compared to renting
High share of listings with a price cut
February 9, 2018 in Buyer info, Buying a Home, first time home buying, home buyer info, Market Statistics, Move Up Buyers, Real Estate Market, Uncategorized | Tags: Buyer info, buying a home, first time home buying, home buyer info, Move Up Buyers, Real Estate Market | Leave a comment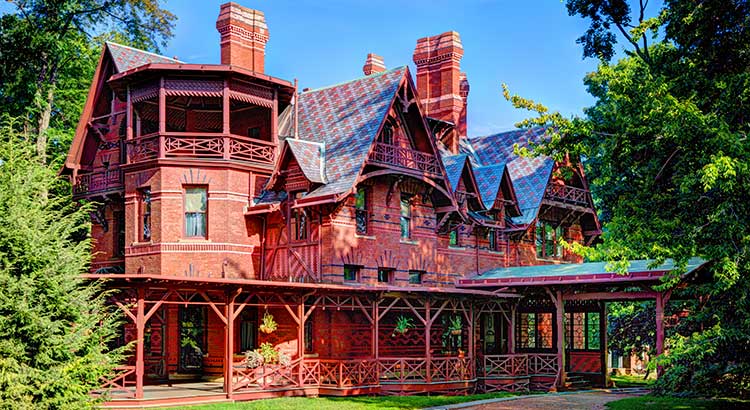 The famous quote by Mark Twain in the title of this article can be used to describe homeownership in America today. Last week, the Census revealed that the percentage of homeowners in the country increased for the first time in thirteen years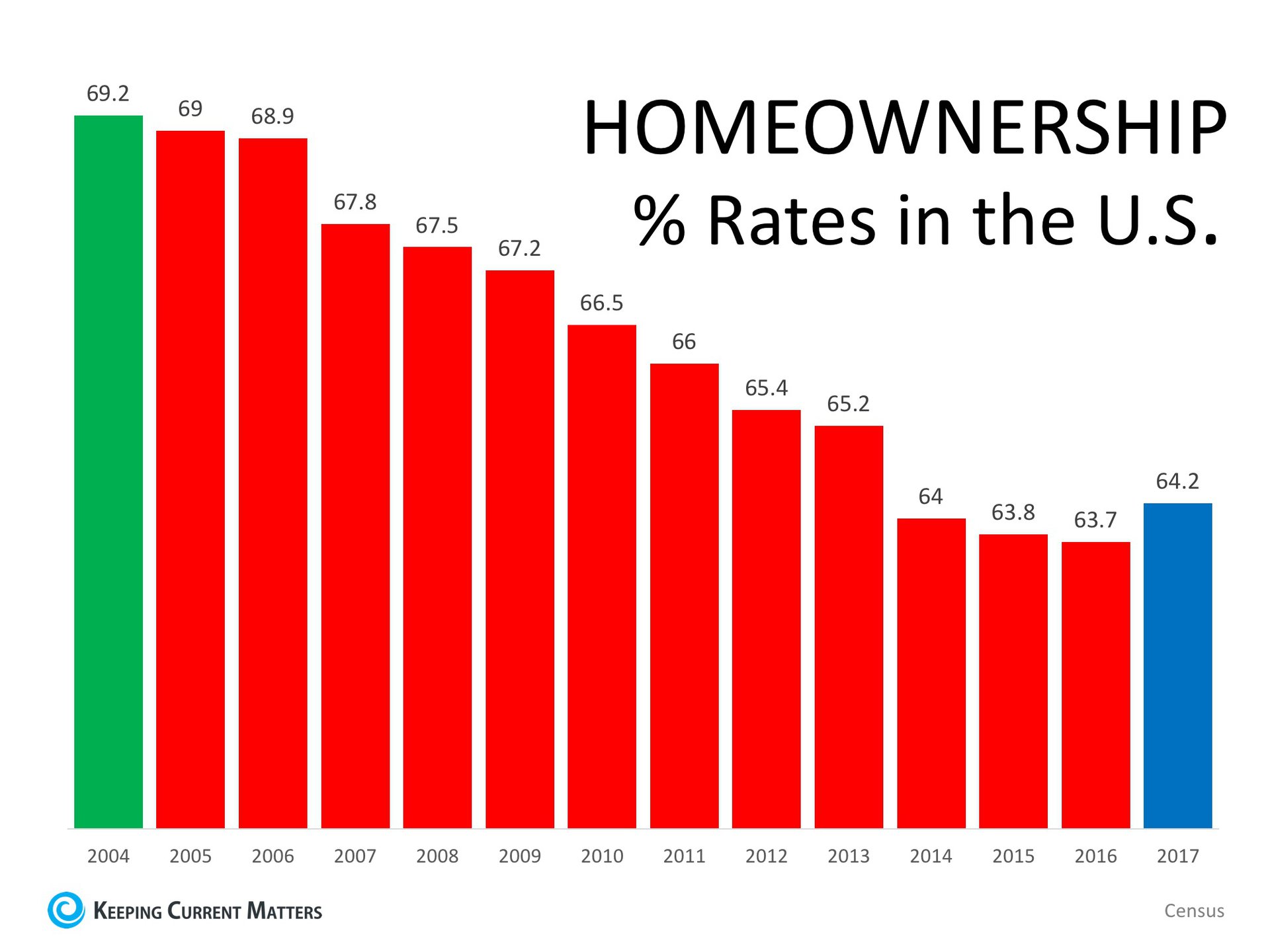 A story in the Wall Street Journal gave these new homeownership numbers some context:
"The annual increase marks a crucial turning point because it comes after the federal government reined in bubble-era policies that encouraged banks to ease lending standards to boost homeownership. This time, what's driving the market is a shift in favor of owning rather than renting.

'This is market, market and market…There's no government incentive program in sight that is having this effect,' said Susan Wachter, a professor of real estate and finance at the Wharton School at the University of Pennsylvania, 'This is back to basics.'"
In a separate report comparing the rental population in America to the homeowner population, RentCaféalso concluded that the gap is now shrinking.
"Undoubtedly, the recession had a great impact on homeownership…However, it looks like it takes more to discourage Americans from buying a house than that.

As the years go by, it seems more and more certain that the fact that renting has seen a sudden gain in popularity is more a reaction to the economic crisis than a paradigm shift in the Americans' attitude toward housing."
America's belief in homeownership was also evidenced in a recent survey by Pew Research. They asked consumers "How important is homeownership to achieving the American Dream?"
The results:
43% said homeownership was essential to the American Dream
48% said homeownership was important to the American Dream
Only 9% said it was not important
Bottom Line
Homeownership has been, is and will always be a crucial element of the American Dream.
*Pictured Above – Mark Twain's home in Hartford, Connecticut.
from Keeping Current Matters
Erroneous assumptions about the business can cause a ton of confusion for the public about how the real estate process works.
The real estate process makes everyone an armchair expert by default. The buyer, the seller, their friends, co-workers and neighbors all know how real estate works.
After all, the last time they bought or sold a home was 10 years ago, and in their view, not much has changed. Misbeliefs and bad information are a dangerous combination.
People don't know what they don't know, and what they do know is enough to create false perceptions of a profession that is often surrounded by damaging assumptions. Here are 15 real estate myths — busted!
Despite what many think, the public is horribly confused about how agents make a living.
There must be a salary floating in the background that supports agents — after all, how is it that they can appear so well-groomed, professional and polished while hosting lavish broker events, open houses or other marketing activities, showing customers around town all day and buying them lunch?
Attention perpetual house shoppers and sellers just testing the market: the agent's time and expenses are 100 percent on them.
Are you a rich broker, or a poor broker?
How to drive automation and profit from Robert Kiyosaki's 'Cashflow Quadrant' 
READ MORE
There is no base salary or reimbursement for the time and money they've expended no matter the outcome, whether it's 500-plus messages or hours of research, advice, problem-solving, trouble-shooting, giving insight over the phone or making countless trips to show property.
How would you feel if your employer decided, as part of its cost cutting, to not give you a paycheck for your all of your work and effort, especially on a big project that involved a tremendous amount of time and effort on nights, holidays and weekends?
2. The agent keeps all the commission
First, the public needs to understand that commission is legally paid to the agent's employing brokerage company, which in turns pays the agent.
Depending on what side the agent is representing (buyer or seller), their brokerage will earn the listing or selling side commission unless the agent happens to be handling both sides of the transaction.
It is a rare occurrence, but it does happen, and doing so is never a walk in the park.
No matter what the commission is, the amount paid to the agent is not the entire commission — the brokerage takes its portion (to be able to run the company to support its agents and keep the lights on), and then the agent gets his or her split.
The split varies based on the company, business model and the agent's level of production.
There are usually additional fees that come off the top of the gross amount of commission being paid to the brokerage.
By the time all is sliced and diced, the resulting amount to the agent may surprise you. Then that agent has to remember to withhold money for taxes and social security. They make a living just like everyone else; the difference is the check doesn't come every two weeks.
3. The typical commission is 6 percent, right?
Speaking of which, I recently had someone ask me this exact question.
The buyer wanted to purchase one of my listings and assumed that I would be receiving the "standard 6 percent," to which I explained that all commissions are negotiable and vary according to a variety of factors with type of property, price and such in my market.
Every market is different.
4. An agent's gas, mileage and other transportation expenses are reimbursed 
If only real estate brokerages had a "transportation fund" to reimburse agents for these things.
The 25 trips to show a buyer homes every time a new one hit the market — only for the buyer to wait and see if something better comes along.
The three days spent driving all over town with a relocating buyer who decides not end up moving to that city.
The umpteen trips to a listing, prepping for showings, and continually checking on the vacant property; or meeting vendors contractors, photographers, etc. — none of it is paid for by anyone but the agent.
Driving into new construction neighborhoods that are rife with tire-puncturing nails — the gas, tolls, vehicle wear-and-tear and maintenance — it all adds up, and it's all on the agent.
5. Marketing expenses aren't the agent's responsibility
Speaking of things the public thinks a brokerage pays for on behalf of an agent — don't forget the marketing expenses!
Think about the several thousand dollars for video production, 3-D tours, digital marketing campaigns, specialty websites, broker open house events, the local symphony quartet playing on a red carpet greeting prospective buyers — not to mention the design and printing of brochures and the like.
Yep, this marketing is brought to you by — your neighborhood friendly real estate agent (sorry no corporate sponsor was available), who didn't ask the seller to contribute one dime, even after agreeing to discount commission to make the seller happy.
And when the seller doesn't follow the agent's advice, won't work with an offer that was received because it was "too low" and ultimately decides to pull the house off the market?
Oh well.
6. A home passes or fails inspection
An inspection is meant to assess the condition of a home. An inspector doesn't "pass" or "fail" a home.
He or she will provide a report explaining all issues along with a summary of the age of key systems such as plumbing, electric, HVAC and the roof along with an estimate of economic life remaining on those systems.
7. Inspectors have to find something, don't they?
Speaking of inspections, no one likes the idea of someone crawling around their home for a few hours with a camera and notepad making note of every crack, crevice and things that may not function to a certain standard.
Here's the deal: inspectors are hired by the buyer to do an independent and objective evaluation of a property. The reality is they are going to find things — no property is perfect, even with brand new construction homes.
There is no secret conspiring happening behind the scenes. If the sellers are concerned about what might be found, the best way to level the playing field is to obtain their own pre-listing inspection before putting the home on the market.
8. Weekends bring out the most serious buyers
Contrary to popular belief, weekends don't usually bring out the most serious and ready-to-buy buyers. Open houses and other open-to-the-community events tend to bring voyeurs, nosy neighbors and curiosity seekers interested in looking at decorating ideas and how other people live.
Just watch Zillow's latest web series "Open House Obsessed" that follows people who have made a hobby out of going to open houses.
The most serious showings tend to happen during the week. In many markets, it is usually too late to wait until the weekend to look at any properties of interest.
9. Zillow says, therefore it is
When was the last time Zillow physically walked through a property, pulled relevant comparables, did specific adjustments and established an on-point range of value?
Zillow's Zestimate gives a consumer a general idea of the value of a home — the company calls it a "starting point" — but by no means is it an exact valuation tool. Zillow can't discern the difference between why homes on one street or in a particular area may be different value-wise versus those just two streets over.
It can't tell the consumer why the last three sales sold for the prices they did and why a particular school is driving people to a specific neighborhood. Even Zillow's CEO, Spencer Rascoff, sold his home for 40 percent less than the Zestimate showed in 2016!
This is one of the most common fallacies in real estate. Sellers want to protect their asking price so they think overpricing it is an effective defense mechanism against selling too low.
Newsflash: overpricing your home often leads to the home sitting and not receiving much interest. If a home is priced competitively from the beginning, the chances of attracting optimal traffic from the beginning greatly increases.
As a follow-up to this myth, sellers often say "well, a buyer can always make an offer," but the problem is that when you've overpriced it, buyers may not look at the home in the first place, let alone put an offer in. You have to entice with the price.
11. When making an offer on a home, you need to start with a low offer
Just as sellers make a classic mistake of overpricing, buyers often make the mistake of wanting to start with a really low offer.
Although there is nothing wrong with negotiating, if the home is priced within range, an unrealistically low offer is only going to alienate the seller, and you won't be taken seriously.
Don't be surprised if you receive a very slight counter or no counter offer at all.
12. The longer a home is on the market, the more negotiable the deal
Not necessarily, and in fact, it may mean just the opposite. A home that lags on the market is likely sitting due to its asking price as well as its lot, layout, location or condition of the home.
An awkward layout or inferior location can also play a role. The seller may be unrealistic about their asking price or want the market to pay more than it is willing to bear.
13. Multiple price reductions mean the seller is desperate to sell
If a home has had multiple price reductions, that must mean the seller desperately needs to sell.
Price reductions are made to bring the property in line with current comparables, price it to be competitive or underprice it to help generate more traffic and interest.
Often when a seller has done several price reductions it means they are through with negotiation.
14. Multiple offers give the sellers an advantage
If a seller receives more than one offer and elects to simultaneously counteroffer all buyers, that increases their leverage and the likelihood of selling for top dollar.
Maybe but maybe not.
It can be easy to see dollar signs when there is more than one offer in hand from multiple buyers. Keep in mind that every buyer has a limit, and no one likes to be played.
Not every home is a must-have in every market, and there will always be another property that becomes available.
As a seller, if you play this card wrong, you could end up having the entire situation backfire and be forced to watch all the buyers walk away.
15. All agents are the same
Although the general process of buying or selling and the ensuing chain of events are similar, no two agents are the same, nor is their approach to real estate. The public often lumps all agents into the same bunch and considers them a commodity without really taking the time to study the differences in their approach, presentation and achievements.
As in every profession or organization, there are those who are committed to excellence, devote endless amounts of time and energy into working with buyers and sellers and are highly adept problem solvers. Others simply march to lower standards and do the bare minimum to get by.
Just as some attorneys and physicians are better than others, so are real estate agents. Some are more resourceful, responsive and creative.
Although a few photos and minimal listing description may be adequate in the eyes of one agent, another agent can't imagine presenting a listing that wasn't properly prepped for sale with staging, video, 3-D and a slick marketing campaign with professionally designed and produced collateral for digital and print.
In real estate, an agent can never assume, and the same goes for the public.
Cara Ameer is a broker associate and Realtor with Coldwell Banker Vanguard Realty in Ponte Vedra Beach, Florida. You can follow her on Facebook or Twitter.
May 3, 2017 in Buyer info, Buying a Home, buying Your Home, first time home buying, home buyer info, Real Estate News | Tags: Buyer info, buying a home, buying Your Home, first time home buying, home buyer info | Leave a comment
Buying a home can be intimidating if you are not familiar with the terms used during the process. To start you on your path with confidence, we have compiled a list of some of the most common terms used when buying a home.
Freddie Mac has compiled a more exhaustive glossary of terms in their "My Home" section of their website.
Annual Percentage Rate (APR) – This is a broader measure of your cost for borrowing money. The APR includes the interest rate, points, broker fees and certain other credit charges a borrower is required to pay. Because these costs are rolled in, the APR is usually higher than your interest rate.
Appraisal – A professional analysis used to estimate the value of the property. This includes examples of sales of similar properties. This is a necessary step in getting your financing secured as it validates the home's worth to you and your lender.
Closing Costs – The costs to complete the real estate transaction. These costs are in addition to the price of the home and are paid at closing. They include points, taxes, title insurance, financing costs, items that must be prepaid or escrowed and other costs. Ask your lender for a complete list of closing cost items.
Credit Score – A number ranging from 300-850, that is based on an analysis of your credit history. Your credit score plays a significant role when securing a mortgage as it helps lenders determine the likelihood that you'll repay future debts. The higher your score, the better, but many buyers believe they need at least a 780 score to qualify when, in actuality, over 55% of approved loans had a score below 750.
Discount Points – A point equals 1% of your loan (1 point on a $200,000 loan = $2,000). You can pay points to buy down your mortgage interest rate. It's essentially an upfront interest payment to lock in a lower rate for your mortgage.
Down Payment – This is a portion of the cost of your home that you pay upfront to secure the purchase of the property. Down payments are typically 3 to 20% of the purchase price of the home. There are zero-down programs available through VA loans for Veterans, as well as USDA loans for rural areas of the country. Eighty percent of first-time buyers put less than 20% down last month.
Escrow – The holding of money or documents by a neutral third party before closing. It can also be an account held by the lender (or servicer) into which a homeowner pays money for taxes and insurance.
Fixed-Rate Mortgages – A mortgage with an interest rate that does not change for the entire term of the loan. Fixed-rate mortgages are typically 15 or 30 years.
Home Inspection – A professional inspection of a home to determine the condition of the property. The inspection should include an evaluation of the plumbing, heating and cooling systems, roof, wiring, foundation and pest infestation.
Mortgage Rate – The interest rate you pay to borrow money to buy your house. The lower the rate, the better. Interest rates for a 30-year fixed rate mortgage have hovered between 4 and 4.25% for most of 2017.
Pre-Approval Letter – A letter from a mortgage lender indicating that you qualify for a mortgage of a specific amount. It also shows a home seller that you're a serious buyer. Having a pre-approval letter in hand while shopping for homes can help you move faster, and with greater confidence, in competitive markets.
Primary Mortgage Insurance (PMI) – If you make a down payment lower than 20% on your conventional loan, your lender will require PMI, typically at a rate of .51%. PMI serves as an added insurance policy that protects the lender if you are unable to pay your mortgage and can be cancelled from your payment once you reach 20% equity in your home.
Real Estate Professional – An individual who provides services in buying and selling homes. Real estate professionals are there to help you through the confusing paperwork, to help you find your dream home, to negotiate any of the details that come up, and to help make sure that you know exactly what's going on in the housing market. Real estate professionals can refer you to local lenders or mortgage brokers along with other specialists that you will need throughout the home-buying process.
The best way to ensure that your home-buying process is a confident one is to find a real estate professional who will guide you through every aspect of the transaction with 'the heart of a teacher,' and who puts your family's needs first.
re-posted from:
April 10, 2017 in Buying a Home, buying Your Home, first time home buying, home buyer info, Market Statistics, Real Estate, Real Estate News, Seller Info, Selling Your Home | Tags: buying a home, first time home buying, home buyer info, Market Statistics, Real Estate, Seller Info, Selling Your Home | Leave a comment
When a homeowner decides to sell their house, the number one thing that they want is, of course, the best possible price!! Right? Next, is that they want the least amount of problems to receive this price. Most sellers don't realize all of the steps required to reach their goal. Marketing is more than sticking a sign in the yard, placing an add on Craig's list or posting some photos on Facebook. Does the seller know how to stage the house to show it's best appeal to the most buyers? Is the seller willing to answer phone calls 24/7, literally? Yes, at 2 in the morning when a buyer is searching the Internet! Does the seller know if the buyer is a serious buyer with their mortgage in place or are they pre-approved? In order to know all of these things & much more, a seller really needs to hire a real estate professional.
Technology has changed the buyer's behavior during the home buying process. According to the National Association of Realtors' 2016 Profile of Home Buyers & Sellers, the percentage of buyers who used the internet in their home search increased to 94%. However, the report also shows that 96% of buyers who used the internet when searching for homes purchased their homes through either a real estate agent/broker or from a builder or builder's agent. Only 2% bought their homes directly from a seller that they didn't know. Most of the buyers who bought homes directly from sellers (For Sale By Owner) still used a Realtor to represent them. Buyers start their search for a home online but then depend on an agent to find the home they will buy (50%), to negotiate the terms of the sale (47%) & price (36%), or to help understand the process (61%). There is so much information out there, either through the Internet or family & friends that more buyers are now reaching out to real estate professionals to help them through the very complicated process. The percentage of buyers who have used agents to buy their homes has steadily increased from 69% in 2001.

Sooooo, if you are thinking of selling your home, don't underestimate the role a real estate professional can play in the process. The vast majority of buyers have realized that they actually need a Realtor in order to purchase their new home correctly. The laws regarding real estate change constantly & a professional Realtor will know the latest requirements & forms, as well as have a much larger audience with which to present your home in the best light.
This post below has some great information on how to choose an inspector when purchasing your next home. I would also add to schedule your home inspections as soon as possible after your offer is accepted. You want to allow enough time for repairs to be completed before closing. If there is too much wrong with the house, you will want to move on quickly to find the right house for you.
So you made an offer, it was accepted, and now your next task is to have the home inspected prior to closing. More often than not, your agent may have made your offer contingent on a clean home inspection.
This contingency allows you to renegotiate the price paid for the home, ask the sellers to cover repairs, or even, in some cases, walk away. Your agent can advise you on the best course of action once the report is filed.
How to Choose an Inspector
Your agent will most likely have a short list of inspectors that they have worked with in the past that they can recommend to you. Realtor.com suggests that you consider the following 5 areas when choosing the right home inspector for you:
Qualifications – find out what's included in your inspection & if the age or location of your home may warrant specific certifications or specialties.
Sample Reports – ask for a sample inspection report so you can review how thoroughly they will be inspecting your dream home. The more detailed the report, the better in most cases.
References – do your homework – ask for phone numbers and names of past clients that you can call to ask about their experience.
Memberships – Not all inspectors belong to a national or state association of home inspectors, and membership in one of these groups should not be the only way to evaluate your choice. Membership in one of these organizations often means that there is continued training and education provided.
Errors & Omission Insurance – Find out what the liability of the inspector or inspection company is once the inspection is over. The inspector is only human after all, and it is possible that they might miss something they should have seen.
Ask your inspector if it's ok for you to tag along during the inspection, that way they can point out anything that should be addressed or fixed.
Don't be surprised to see your inspector climbing on the roof, crawling around in the attic, and on the floors. The job of the inspector is to protect your investment and find any issues with the home, including but not limited to: the roof, plumbing, electrical components, appliances, heating & air conditioning systems, ventilation, windows, the fireplace & chimney, the foundation and so much more!
Bottom Line
They say 'ignorance is bliss,' but not when investing your hard-earned money in a home of your own. Work with a professional you can trust to give you the most information possible about your new home so that you can make the most educated decision about your purchase.
http://www.keepingcurrentmatters.com/2017/01/29/what-to-expect-from-your-home-inspection/
February 14, 2017 in Buying a Home, buying Your Home, first time home buying, Florida, Holidays, Home for Sale, Quality of life, St Pete, St. Petersburg, Florida | Tags: buying a home, buying Your Home, first time home buying, Florida, Holidays, Homes for sale, Quality of Life, St Pete, St Petersburg Florida | Leave a comment
January 12, 2017 in Buying a condo, Buying a Home, Economic News, first time home buying, home buyer info, Lender Info, Real Estate Market | Tags: Buyer info, Buying a condo, buying a home, Economic News, first time home buying, home buyer info, Lender info, Real Estate Market | Leave a comment
It appears that Americans are regaining faith in the U.S. economy. The following indexes have each shown a dramatic jump in consumer confidence in their latest surveys:
It usually means good news for the housing market when the country sees an optimistic future. People begin to dream again about the home their family has always wanted, and some make plans to finally make that dream come true.
If you are considering moving up to your dream home, it may be better to do it earlier in the year than later. The two components of your monthly mortgage payment (home prices and interest rates) are both projected to increase as the year moves forward, and interest rates may increase rather dramatically. Here are some predictions on where rates will be by the end of the year:
HSH.com:
"We think that conforming 30-year fixed rates probably make it into the4.625 percent to 4.75 percent range at some point during 2017 as a peak."
Svenja Gudell, Zillow's Chief Economist:
"I wouldn't be surprised if the 30-year fixed mortgage rate hits 4.75 percent."
Mark Fleming, the Chief Economist at First American:
"[I see] mortgage rates getting much closer to 5 percent at the end of next year."
Lawrence Yun, NAR Chief Economist:
"By this time next year, expect the 30-year fixed rate to likely be in the 4.5 percent to 5 percent range."
Bottom Line
If you are feeling good about your family's economic future and are considering making a move to your dream home, doing it sooner rather than later makes the most sense.
by The KCM Crew on January 12, 2017 in For Buyers, Interest Rates, Move-Up Buyers
Agents, did you know you can share a
personalized
version of this post?
Learn more!
Every real estate agent wants a well-informed home buyer who's prepared to take on the responsibility of home ownership. Of course, not everyone is enlightened about the homebuying process when they seek your services. One way to get your clients ready for the transaction is to refer them to homebuyer education courses before they launch their search.
A Sample of Homebuyer Education Programs

HUD provides a comprehensive list of its approved resources, including homebuyer education courses and one-on-one counseling. Here are a few of those programs, which are available online and can be completed at the buyer's leisure.

Framework
Cost: $75
Time to completion: About four hours
Includes nine education modules with a quiz at the end. Coupons are available, which agents can provide as a gift to clients. After completing the course, users download and save a Certificate of Completion. For buyers who purchase a home through Fannie Mae's HomePath REO program, the cost of the course will be reimbursed. Fannie Mae also offers closing cost incentives to first-time buyers in the HomePath program who complete the Framework course.

MGIC Homebuyer Education
Cost: Free
Time to completion: About an hour
This program is suitable for buyers who are just beginning to learn about the homebuying process and who do not yet have a lender. It's approachable and user-friendly, and the course can be taken by a "stealth" user without registering. Users can also register and take a quiz at the end, which will satisfy requirements for Freddie Mac Home Possible programs.

eHome America
Cost: $99
Time to completion: Eight hours, taken online at your own pace
This is one of several financial courses offered through the HUD-approved "Home Purchase" program. It covers topics such as determining if now is the right time to buy, shopping for a home, and getting approved for a home loan.

CreditSmart Steps to Homeownership
Cost: Free
Time to completion: About two hours
This program focuses on good credit: how you can improve your credit score, why it's necessary to do so, and how it leads to home ownership. Users receive a certificate, which can be used for Freddie Mac Home Possible programs.

United Guaranty's Home Ownership Course
Cost: Free
Time to completion: Two to three-and-a-half hours
Satisfies the homeownership education requirement for Freddie Mac's Home Possible affordable home program. After you complete the course and assessment, your lender (if applicable) will be notified by email.
These courses, many of which are now being offered online by lenders and nonprofit community organizations, are useful for all clients — those entering the market for the first time or even making a second or third home purchase. Many real estate professionals try to act as full-service providers able to solve any problem or answer any question, notes Joe Weisbord, director of credit and housing access at Fannie Mae, whose HomeReady program requires prospective buyers to take a HUD-approved homeowner course in order to qualify for a loan. But "people don't like to admit what they don't know," he says, and your clients may not always come to you if they're embarrassed about their lack of knowledge.
By linking them to a course providing "independent, unbiased information that helps them understand choices they're going to make," you're helping meet your clients' needs while building trust.
For nervous first-time buyers, those with poor credit, or others who need extra attention while learning the homebuying process, pointing them to a course can also be a great way to solidify the client-agent relationship. Homebuyer courses aim to demystify credit-score requirements, budgeting, shopping for a mortgage, home inspections, insurance, and maintenance, among other items. This takes the pressure off you, and you can spend your time honing in on the type of properties your clients are interested in. You'll be ready to go once they are, and "it's less likely that unknown circumstances will arise that will lead to the sale falling apart," Weisbord says.
But homebuyer courses — many of which are free, but costs can fall along a range of up to $100 — can also convince a prospective buyer that they're not ready to purchase. That's still good for the agent in the long run, Lane says. "I'm not afraid of losing [a client]. If someone wants to rush and make a bad decision, I don't want to be a part of that. It's important in our business to take our clients through a rigorous fact-finding mission."
The in-depth programs position buyers who may struggle with the lending process to successfully purchase once they've built up their savings or repaired their credit. That could help them secure a more competitive mortgage rate and lead to a bigger home sale later on. "Today's sale might be critical, but the way to build a real estate career is through a chain of referrals," says Anne McCulloch, senior vice president for credit and housing access at Fannie Mae. "People who don't succeed are not the best referrals."
For certain lending programs, including Freddie Mac's Home Possible Mortgages, completing a HUD-approved homebuyer education course is mandatory. A newly revised course called Framework, a joint enterprise of the Housing Partnership Networkand the Minnesota Homeownership Center that is available to consumers nationwide, draws on research of best practices in online learning, says Framework president Danielle Samalin. "We've learned that content tied to emotional information is more readily retained," she says, adding that Framework employs motion-graphic videos and homebuyer stories, among other content. "Most people complete it within a day of signing up."
Other lenders are offering education resources with incentives. In May, Wells Fargo debuted a new program called yourFirstMorgage, which includes a 1/8 percent reduction on mortgage rates for buyers with down payments of less than 10 percent if they complete a homebuyer education course.
For Lane, referring clients to these courses is a way to make her value proposition as a real estate professional stronger. "Every time you provide something for a client, you build that bond," she says. "It's a way to separate yourself from the herd, a long-term relationship-building opportunity."
BY BETH FRANKEN   http://realtormag.realtor.org/sales-and-marketing/feature/article/2016/10/help-clients-get-smarter-about-ownership