Category Archive
You are currently browsing the category archive for the 'Lender Info' category.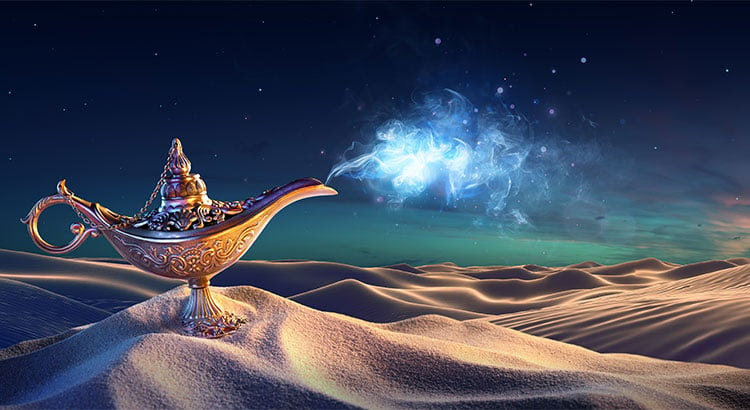 Urban Institute recently released a report entitled, "Barriers to Accessing Homeownership," which revealed that "eighty percent of consumers either are unaware of how much lenders require for a down payment or believe all lenders require a down payment above 5 percent."
Myth #1: "I Need a 20% Down Payment"
Buyers often overestimate the down payment funds needed to qualify for a home loan. According to the same report:
"Consumers are often unaware of the option to take out low-down-payment mortgages. Only 19% of consumers believe lenders would make loans with a down payment of 5% or less… While 15% believe lenders require a 20% down payment, and 30% believe lenders expect a 20% down payment."
These numbers do not differ much between non-owners and homeowners; 39% of non-owners believe they need more than 20% for a down payment and 30% of homeowners believe they need more than 20% for a down payment.
While many believe that they need at least 20% down to buy their dream home, they do not realize that programs are available that allow them to put down as little as 3%. Many renters may actually be able to enter the housing market sooner than they ever imagined with programs that have emerged allowing less cash out of pocket.
Myth #2: "I Need a 780 FICO® Score or Higher to Buy"
Similar to the down payment, many either don't know or are misinformed about what FICO® score is necessary to qualify.
Many Americans believe a 'good' credit score is 780 or higher.
To help debunk this myth, let's take a look at Ellie Mae's latest Origination Insight Report, which focuses on recently closed (approved) loans.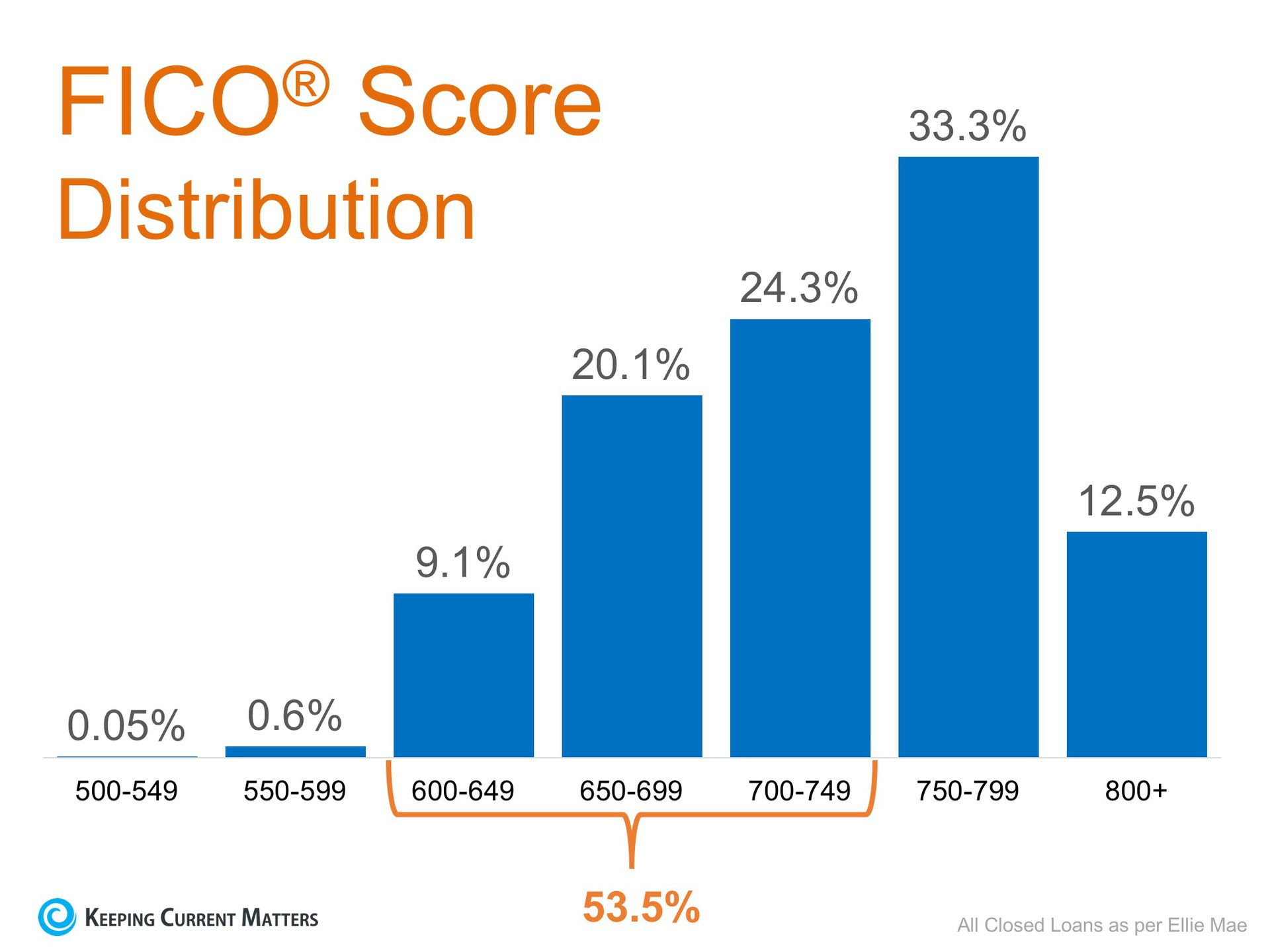 As you can see in the chart above, 53.5% of approved mortgages had a credit score of 600-749.
Bottom Line
Whether buying your first home or moving up to your dream home, knowing your options will make the mortgage process easier. Your dream home may already be within your reach.
WASHINGTON – Aug. 1, 2017 – Fannie Mae, the large quasi-government agency that sets the guidelines for lenders selling their home loans on the secondary mortgage market, is adopting some new procedures that should make it easier for many borrowers with student debt, and those who cosigned for them, qualify for a home loan. Large student debt is one of the barriers for many young people trying to qualify for a mortgage.
Beginning immediately, Fannie Mae is expanding cash-out refinances that let borrowers use the lower interest rate equity in their home to pay off higher interest rate student debt. The refi program should help not just students who borrowed money for themselves, but also parents who cosigned for them. (Private student loans made by banks and other lenders typically require cosigners.)
While the cash-out refi program will enable many borrowers to trade low interest mortgage debt for higher interest student loans, the program does carry some risk. Student loans are unsecured while mortgages are secured by the home. If the borrower runs into financial difficulty, the home could be at risk.
Also, federal student loans come with protections like flexible repayment options and payment deferment if the borrower runs into financial trouble. Those protections end if the debt is refinanced into a mortgage. Private student loans, however, do not usually have those protections.
Another change allows borrowers applying for a mortgage to exclude debt being paid by others, such as credit cards and student loans being paid by parents or employers, from their application. That change will help give these borrowers a better debt-to-income ratio, some important criteria in a mortgage application, improving their chances of qualifying for a mortgage.
A third change will help borrowers with student loans on a flexible payment plan, which tie monthly payments to income. Previously, Fannie Mae required lenders to use higher monthly loan payments rather than borrowers' lower flexible payments in determining debt-to-income. Now, lenders can use the lower payments which should help more borrowers qualify for a mortgage.
Many millions of student borrowers are on flexible payment plans. Hopefully, all of these changes will make it easier for young people to get into the housing market.
Copyright © 2017 The Enterprise, Linda Goodspeed. Goodspeed is a long-time real estate writer and author of In and Out of Darkness.
http://www.floridarealtors.org/NewsAndEvents/
January 12, 2017 in Buying a condo, Buying a Home, Economic News, first time home buying, home buyer info, Lender Info, Real Estate Market | Tags: Buyer info, Buying a condo, buying a home, Economic News, first time home buying, home buyer info, Lender info, Real Estate Market | Leave a comment
It appears that Americans are regaining faith in the U.S. economy. The following indexes have each shown a dramatic jump in consumer confidence in their latest surveys:
It usually means good news for the housing market when the country sees an optimistic future. People begin to dream again about the home their family has always wanted, and some make plans to finally make that dream come true.
If you are considering moving up to your dream home, it may be better to do it earlier in the year than later. The two components of your monthly mortgage payment (home prices and interest rates) are both projected to increase as the year moves forward, and interest rates may increase rather dramatically. Here are some predictions on where rates will be by the end of the year:
HSH.com:
"We think that conforming 30-year fixed rates probably make it into the4.625 percent to 4.75 percent range at some point during 2017 as a peak."
Svenja Gudell, Zillow's Chief Economist:
"I wouldn't be surprised if the 30-year fixed mortgage rate hits 4.75 percent."
Mark Fleming, the Chief Economist at First American:
"[I see] mortgage rates getting much closer to 5 percent at the end of next year."
Lawrence Yun, NAR Chief Economist:
"By this time next year, expect the 30-year fixed rate to likely be in the 4.5 percent to 5 percent range."
Bottom Line
If you are feeling good about your family's economic future and are considering making a move to your dream home, doing it sooner rather than later makes the most sense.
by The KCM Crew on January 12, 2017 in For Buyers, Interest Rates, Move-Up Buyers
Agents, did you know you can share a
personalized
version of this post?
Learn more!
In our area of St Petersburg-Tampa-Clearwater, Florida, most sellers won't even consider an offer without a pre-approval letter from the lender. So I tell my buyers that they must start the loan process in order to receive the pre-approval letter but also so we know exactly what price range of homes we should be viewing.
Buying a house is a very exciting time for anyone and most potential homebuyers want to jump right in and start looking at houses. However, getting pre-approved for a mortgage is one of the most crucial points in beginning your home search. It is natural to want to start looking at houses immediately, but getting pre-approved first will make the process much more streamlined for everyone involved. Here are 5 reasons why you should get pre-approved before house hunting.
Saves time for everyone.
It doesn't make sense to look at houses when you don't know what your price range is or whether you'll even be approved. Looking at homes takes time and while it may be fun for you, it is also work for your real estate professional. Having a pre-approval before house hunting will allow you to look at homes that you can afford and save everyone's precious time.
You know what your budget is.
As a homebuyer you want to begin looking at homes you can afford. There is nothing worse than falling in love with a home that is outside your price range. Getting a pre-approval before house hunting will give you a realistic expectation as to what you can afford. With that number you can decide on what compromises you are willing to make to stay within that price range. This will help you to manage your expectations and emotions during your house hunt.
You will be taken more seriously.
Having a pre-approval in hand will make you look much more on top of things during the home buying process. Many realtors won't begin showing homes until they see your pre-approval letter and know what price range of homes they should be showing you. Additionally, when it comes time to make an offer on a house, you will be taken more seriously in the eyes of a seller if you have a pre-approval letter to present. In fact, your offer may be more attractive to others because the sellers will know that you've already secured a mortgage loan.
It is much less risky.
If you enter into a sales contract without a pre-approval you are creating many risks for yourself. First, getting a mortgage pre-approval may take time and it may push back your closing if you don't already have one. Secondly, if you fail to get a pre-approval after entering into a sales contract you may end up losing the earnest money deposit that you made with your contract. Neither are risks you want to take when buying a home.
Helps expedite the closing process.
Having a pre-approval before entering into a sales contract will make the process much more streamlined. You will already have a point of contact with your lender and will most likely have a list of documentation that you'll need to provide. You won't have to go through the entire underwriting process and it will help you to close on your mortgage in time.
Remember these 5 reasons of why you should get pre-approved before house hunting. It saves everyone time and will help you to avoid any heartache and headache in the real estate market.
http://zitorealtygroup.com/why-you-should-get-pre-approved-before-house-hunting/
January 9, 2015 in Buying a Home, Economic News, Lender Info, Mortgage info, Real Estate News | Tags: buying a home, Economic News, Lender info, Mortgage info, Real Estate Market, Real Estate News | Leave a comment
Today President Obama announced plans to help increase homeownership in America, and target first time home buyers by lowing the annual cost of the FHA mortgage insurance premiums by 50 basis points.
Residential News » United States Edition | By Miho Favela | January 8, 2015 – See more at: http://www.worldpropertyjournal.com
This announcement is now getting praise by many real estate professionals and organizations.
David H. Stevens, President and CEO of the Mortgage Bankers Association says, "The MBA applauds President Obama and his administration for continuing to look for ways to help first time home buyers, grow the housing market and strengthen the economy. Specifically, MBA is pleased about the decision to make a 50 basis point reduction on the annual FHA MIP, something MBA has called for in the past.  This is a win-win.  It's good for borrowers and good for FHA, helping the agency stabilize its market share and continue to rebuild the MMI fund.
"Additionally, we were encouraged that President Obama called for GSE reform, which hopefully will spur action on Capitol Hill.  And the coming changes to Fannie and Freddie's rep and warrant framework that he mentioned should help lessen the high level of uncertainty lenders face and allow them to use the full extent of the GSE credit box to serve more qualified borrowers."
The Mortgage Bankers Association Chairman Bill Cosgrove further added, "As an independent mortgage banker whose business includes a significant amount of FHA lending, I can attest that the 50 basis point reduction in FHA's annual premium will have a significantly positive impact for my borrowers and the housing market. Specifically, this will help first time homebuyers by making FHA loans more affordable.  Given the timing, just as we begin the spring home buying season, I think today's announcement is just what the market needs.
"MBA looks forward to working with the President, as well other policymakers in Washington, to ensure the real estate finance market continues to strengthen so that all consumers have the opportunity to enjoy the dream of homeownership."
The California Association of Realtors also chimed in on today's announcement.
"Reducing FHA mortgage insurance premiums will make it easier for hundreds of thousands of home buyers to get a mortgage and provide greater access to homeownership for historically underserved groups and credit worthy families," said C.A.R. President Chris Kutzkey. "Moreover, this shift in policy will also increase the volume of borrowers using FHA-backed loans, while continuing to contribute to the solvency of FHA's Mutual Mortgage Insurance (MMI) Fund and making the dream of homeownership a reality for millions more Americans." – See more at: http://www.worldpropertyjournal.com
When you pay your mortgage, do you know exactly what you're paying for? As a homeowner, you should,so here is your mortgage decoded and explained: http://bit.ly/1q3lvfZ
PITI: Your Mortgage Payment Explained – realtor.com
As a renter you are used to sending your landlord a monthly payment, which sometimes even includes your utility payments.Once you become a homeowner, your monthly mortgage payment becomes more complicated.Unless you are paying cash for your home, you will have a mortgage payment. There are typically four parts to this monthly mortgage payment, often referred to as PITI:
Principal: This is the portion of your payment that goes to pay down the balance that you borrowed. If you opt for a fixed-rate loan, your monthly payment will not change over the loan term, but the makeup of your payment will change. In the early years of your loan, you mostly pay interest, but gradually you will begin to pay more of the principal. For example, in the first month of a 30-year fixed-rate loan of $200,000 at 4.5%, your payment will be $1,014 with $264 toward principal and $750 toward interest. In 20 years, the payment will still be $1,014 each month—but the payment will be shifted to $647 toward principal and $367 toward interest.
Interest: The interest you pay is the cost of borrowing money.
Taxes: Your lender usually requires an escrow account and will collect one-twelfth of your annual property tax bill in this account with each mortgage payment.
Insurance: You will pay one year of homeowners' insurance premiums at your home settlement as part of your closing costs, and then your lender will collect one-twelfth of your annual insurance premium in this account with each mortgage payment.
If you make a down payment of less than 20%, your mortgage payment may also include mortgage insurance, a fee you pay that protects your lender in case you default on the loan.
While there are sometimes exceptions to the rule, lenders generally require your house payment to be 31% or less than your gross monthly income. So when you are calculating how much you can afford to spend on a home, you should keep that figure in mind.
Other Housing Expenses
If you buy a condominium or a home within a homeowners association (HOA), you will also need to pay association dues. These dues are not part of your mortgage payment but will be considered as part of your debt-to-income ratio. Condo fees are usually collected monthly, and HOA fees can be collected monthly, quarterly or annually.
When you are making up a housing budget, you also need to estimate your utility costs—which you will pay separately from your mortgage. You can ask the sellers of a home you're interested in for their average utility bills. Don't forget you may need to pay not only gas and electric bills but also a water bill and possibly a trash removal fee.
As a renter, you've been able to call your landlord when an appliance breaks or you have a plumbing leak, but as a homeowner these problems will become yours. You need to budget for maintenance and repairs, but it can be difficult to predict what issues will arise in any particular year.
It also depends on the age and condition of your home. A home inspector can give you an idea of when you might need to replace particular appliances, but you can also keep about 1% of your home value available for emergency home repairs.
Budgeting for homeownership is a key element to maintaining your ability to keep your home and to help it hold onto its value. Making your monthly house payment is the biggest part of the financial commitment—but certainly not the only one.
September 2, 2014 in Buying a Home, Closing Process when buying a house, Lender Info, Mortgage info, Real Estate News, Title Company | Tags: buying a home, Closing process, Lender info, Mortgage info, Real Estate Market, Title Company | Leave a comment
Hear what title insurers and settlement services providers are doing to streamline the closing process for homebuyers and sellers from Matt Morris, CEO of Stewart Information Services Corp., and Patrick Stone, president and CEO, Williston Financial Group.
http://bit.ly/VPUulj
How to streamline the closing process for your buyers and sellers | Inman News
Matt Morris, CEO of Stewart Information Services Corp., and Patrick Stone, president and CEO, Williston Financial Group, talk about how to streamline the closing process for homebuyers and sellers.